If characters are what they do, a great way to learn how to write action that reveals character is to study scenes and scripts without a lot of dialogue—especially animated films.
Even before my son was born, I had a soft spot for animated films, especially ones from Disney/Pixar, DreamWorks Animation (How to Train Your Dragon), and Aardman Animations.
Early Man, Aardman's latest stop-motion feature, doesn't hit the same zany heights as its other films (Chicken Run, the wacky world of Wallace & Gromit), but it's still a kick. A Stone Age tribe battles Bronze Age bruisers on the soccer field for the rights to their homeland, complete with sight gags and a smattering of potty humor. (The film has grossed over $8 million nationwide since its US release in February.)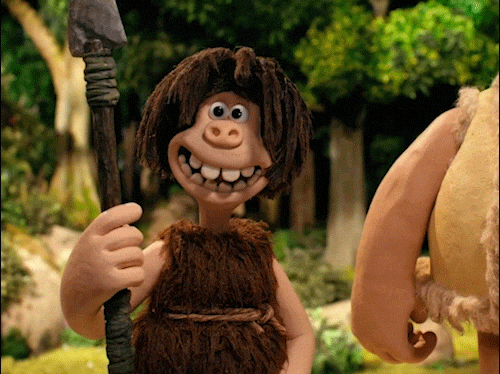 The film features the voice talents of Eddie Redmayne (Fantastic Beasts and Where to Find Them), Tom Hiddleston (Marvel Studios's Loki), and Maisie Williams (Game of Thrones), but the most zing comes from the animals that never say a word. A pet boar named Hognob is especially as expressive and as brilliant as Gromit, stealing more scenes with a furrowed brow, fidgety hooves, and wobbly knees than some of the punchlines.
Emerging screenwriters often hear not to direct their characters on the page by writing action or description that's too meticulous—noting where characters sigh, pause, whisper, or shout, for instance. Granted, animation takes a lot of planning and storyboards, but it also uses scripts to convey what those storyboards and scenes need to show.
The Aardman team is skilled at crafting humorous critters with loads of heart. Take Shaun the Sheep, the studio's TV series turned 2015 feature film—one with no dialogue at all. Screenwriters Mark Burton (Wallace & Gromit: The Curse of the Were-Rabbit) and Richard Starzak (the Shaun the Sheep TV series, Aardman's Creature Comforts) write action lines infused with Shaun's ingenuity, sweetness, and wit, contrasted with the addled doggedness of Trumper, an animal catcher.
In one scene, Shaun winds up in a city pound with Bitzer, the dog from the farm where Shaun lived with tiny Timmy, other sheep, and their beloved farmer before things went awry. As Trumper escorts Shaun "down the grim line of cages," a "muscle-bound poodle" works out with a ham bone. A goldfish plays a mournful harmonica, "which it hastily hides as Trumper approaches."
Trumper "unceremoniously shoves Shaun" inside a cage, where Shaun is first fearful, then relieved to discover Bitzer. Still, with the rest of the flock missing, Shaun "sinks onto the bunk bed miserably, clutching Timmy's teddy."
Meanwhile, Trumper sips tea and pins Shaun's animal mug shot to his pile of "conquests," all stamped "contained." As he catches sight of himself in the mirror, he "sucks in his gut" and "does some moves like Robert De Niro in Taxi Driver."
We get a clear picture of these characters without a lot of explanation about how they feel. Shaun is sorry his flock is lost in the city, but the script shows this through his body language. Likewise, Trumper isn't the sharpest barb on the fence but thinks he is. He's also mean and good at his job, which makes him dangerous.
The script for Disney/Pixar's WALL-E, one of my favorites, is rich with character moments. The 2008 Oscar-winning film is a romance between the titular good-hearted trash compactor and EVE, a sleek science bot.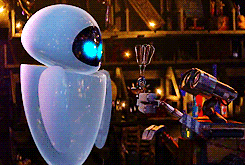 Before the two meet, the script describes a typical day for WALL-E, the last robot of his kind programmed to clean up Earth after humans have blasted into space. He's developed a quirky personality, where he saves treasures—a Rubik's cube, sporks, a videotape of Hello, Dolly!—that he finds in the detritus.
As night falls, he turns over his Igloo cooler to clean it: "Pauses to take in the night sky. Stars struggle to be seen through the polluted haze." He plays a sample of "It Only Takes a Moment," a song from Hello, Dolly! He looks out into the night as a sandstorm approaches.
WALL-E heads inside the truck that's become his home, then raises the door. But he pauses and whistles for his cockroach to come inside.
In a few short paragraphs, we learn that he's lonely, a compassionate dreamer who yearns for love and adventure.
The animation studio has a "Script to Screen" video series on YouTube that shows short scenes from several of its films with the script scrolling beneath, so viewers can compare how the action translates. WALL-E's highlights the protagonist's "dance" with EVE in space.
A segment from Moana features the title character as a toddler meeting the ocean, a character in its own right that rolls itself away from her to share seashells and tousle her hair.
Other videos in the series include segments from Toy Story, Up, Inside Out and Coco. 
Of course, if animation isn't your style, you can read and compare other scripts and films with sparse dialogue or patches of silence, such as 2000's Cast Away, 2004's Collateral, and 2013's All Is Lost. Pattern your work after the techniques you like, and soon your characters' actions will speak louder than words.
---
Valerie Kalfrin is an award-winning crime journalist who now dives into fictional mayhem as an author (Quicklet on The Closer: Season 1), essayist, film critic, screenwriter, and emerging script consultant. She also writes for The Guardian, Bright Wall Dark Room, ScreenCraft, Hazlitt, Signature, and the blog for Final Draft, the top-rated screenwriting software used by the filmmaking industry. A member of Screenwriters of Tomorrow, she's collaborated on short films and features, and she's affiliated with the Tampa Bay Film Society. She lives in Florida. Find her online at valeriekalfrin.com.
Photo credit: StudioCanal
---
For all the latest from The Script Lab, be sure to follow us on Twitter, Facebook, and Instagram.