When Amazon Studios announced at the start of the year that it had signed Sharon Horgan to an exclusive two-year deal, I tweeted that it had signed "the funniest human being alive". High praise, but deserved praise, for the creator and writer of a series of superb TV comedies, especially Catastrophe, that in just over a decade have already established her as one of the great television writers. Now Amazon will hope – indeed, they can be fairly confident – that her unique comic talent will easily translate from the old world of terrestrial TV to the crazy new world of internet TV.
Horgan's background is eclectic, to say the least, which may in part explain why she herself has had no time for the traditional, fixed identities (such as an "Irish writer" or, worse, a "female Irish writer") that have often been applied to writers. For a start, she is one of those rarest of rarities, someone who did not emigrate from Ireland but immigrated into it. "Immigrated" is probably putting it a bit strong, as she was born in Hackney, in the east end of London, in 1970, before moving at the age of four to Mayo, on the west coast of Ireland. Incidentally, the family of two of the other great Anglo-Irish artists of the last two decades – the Gallagher brothers, Noel and Liam – also hailed from Mayo. Given that the Gallaghers, particularly "Noely G", are, like Horgan, extremely funny, there must be, as the Irish often say, something in the water there.
In Ireland, Horgan's parents ran a turkey farm, with the young Sharon often helping out with the plucking and other duties. That is ironic, because throughout the writing career that she would establish more than three decades later, Horgan has fastidiously avoided involvement with any other "turkeys" and instead has exercised remarkable creative control.
Horgan returned to her birthplace of London in the early 1990s to try to find either work or training as an actress. She occasionally found work, but more often than not supported herself through truly "odd" jobs, notably working at a "head" (or more precisely drug paraphernalia) shop in Camden. There, if nothing else, she learned the drug argot that she would so mercilessly lampoon and puncture in her later writing, particularly in the depiction of Catastrophe's classic drug casualty, Dave.
Eventually, Horgan escaped the world of bongs and blims by enrolling on a course in English and American studies at the University of Brunel in West London. Although studying both "English" and "American" has probably been an enormous help to her in what is now a truly Atlantic-straddling career, as she writes and performs on both sides of the "pond", initially the course was most useful for allowing her to meet another aspiring writer, Dennis Kelly. Together, they began writing comedy sketches for TV, which eventually morphed into their co-writing the sitcom, Pulling.
Pulling was the story of three thirty-ish women in London who were all "on the pull", i.e. looking for sexual partners. Horgan herself played one of the leads, Donna, who, in one of the classic switches of traditional gender roles that would prove characteristic of her writing, ditched her groom at the altar, before throwing herself headlong into a life of drinking, screwing and puking. Pulling began on BBC3 (one of the BBC's smaller channels, which is now internet-only) before being repeated on BBC2, one of the corporation's two main channels. With Horgan and Kelly creating a succession of scenarios and characters that were simultaneously absurd and all-too-believable, the show ran for three series before being canceled, but that was more than enough to establish the reputations of both Kelly and Horgan. Kelly would go on to write in very different territory, including co-writing Matilda the Musical with the comic songwriter Tim Minchin and writing a fascinating dystopian thriller that was ironically entitled Utopia. By contrast, Horgan would go on to rework and refine many of the ideas in Pulling, honing them to comic perfection in Catastrophe.
Horgan has often talked in interviews about being an "autobiographical" writer, in that her major works have often been about the different periods of her own life. In Pulling, she depicted the "single life" that had traditionally only been the preserve of men but which is increasingly being adopted by young women, too. Then, in Catastrophe (the title of which derives from her fabulously comic phrase, "Marriage, kids, the whole catastrophe!") she drew on her own experiences as a recently married mother to show how even the happiest of marriages can be, at times, not just unhappy but absolutely excruciating.
Perhaps the defining quality of Catastrophe, which was first broadcast on Britain's Channel 4 in 2015 and has now run to three series, is its pace, or, to use the traditional comic term, "gags per minute". Actually, "gags per minute" is an inexact phrase to use in relation to Horgan's writing: perhaps "brilliant observations, throwaway lines and sheer laugh-out-loud-and-often-in-horror moments per second" would be better.
It is all there in the opening episode, indeed the opening scene, in which Horgan's "Sharon Morris" and co-star Rob Delaney's "Rob Norris" (no wonder they never hyphenated) meet briefly in a bar before leaving said bar to have sex in a stairwell. At this point, it is as if Horgan is still playing her character, Donna, from Pulling, who was similarly unabashed about instant physical coupling. However, over the quick-fire course of the first episode, it emerges that she is, in fact, a primary school teacher (unlike Donna, who had worked in the nebulous world of "marketing") and very soon she is a pregnant primary school teacher. She manages to contact Rob, only to discover that he had only briefly been in England on a visit and has now returned to his hometown of Boston. Motivated by a desire not to be an absent father (unlike his own father, who had abandoned him and his mother), Rob instantly recrosses the Atlantic and declares his love for Sharon, who predictably hoots with derision. Having stopped hooting, however, she soon realizes that it could be useful to have a little extra help with the baby she intends to keep, and so their "relationship", which began with sex, now enters a new phase. That includes visits to doctors, where Sharon discovers that, besides the baby, she may have a cancerous growth in her womb, but is "reassured" that it will probably "be blown out" by the birth.
And that's all in the first episode. What might have taken a far less gifted comic writer at least an episode or two, if not an entire series, to tell is all thrillingly, hilariously catapulted at the viewer who, like the characters themselves, can barely keep up with it all. This is truly 21st-century storytelling, almost "comedy on crack", and it continues like that for the next three series, with very little, if any, let-up.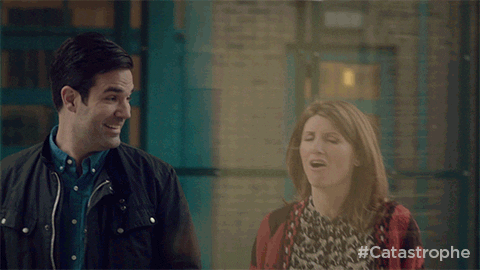 It must be emphasized that Horgan is not only a brilliant writer herself but a brilliant co-writer, because, just as with Pulling, Catastrophe was co-created and co-written with Rob Delaney, who, unlike Dennis Kelly, also co-stars. Theirs is a comic pairing made in heaven, with not one but two funny "guys" ("guys" in the gender-neutral sense in which it is often used now) sparking off each other continually. Delaney is as naturally funny as Horgan, and yet they do not play two comics, or stand-up comedians, in the show, but instead two relatively normal people (a teacher and a businessman) who, if anything, are frustrated stand-ups, whose only outlet for their comic genius is each other.
Delaney is also notable as the only TV comic whose own "back-story" comes close to matching that of Frasier's Kelsey Grammer for apparent unbelievability. Just as Grammer has married and divorced ex-Playboy centerfolds and had not one but two close relatives eaten by sharks (a statistical anomaly, to say the least), so Delaney has struggled with any number of personal demons, especially alcoholism, which he only finally began to control after a near-fatal car crash.
Unfortunately, despite the enormous critical and commercial success of Catastrophe, Delaney was recently confronted with what is probably the biggest "demon" of all, the death of a child, after his two-year-old son, Henry, died of cancer earlier this year. Confirming the news, Delaney stoically wrote, "I will endeavour not to go mad with grief". Naturally, Delaney's own personal catastrophe has placed the future of the TV show Catastrophe in doubt. Coupled with Horgan's decision to sign with Amazon Studios, it is entirely possible that there will not be a fourth series at all, or at least not for a long time. If that is the case, then the first three series will stand together as a benchmark of TV comedy in the early 21st century.
Typically, Horgan, who is clearly something of a workaholic, has continued to create and write other series, both in Britain and America. Motherland, a BBC comedy about the reality of mothering and motherhood, was another co-write, this time with several other writers. One of them is another bona fide Irish comedy genius, Graham Linehan, co-creator with Arthur Mathews of Father Ted and main creator of The Walshes, a sitcom about a Dublin family that may only have run for three episodes but told an entire box-set of stories in those three episodes. Motherland was undeniably funny, as one would expect of Horgan and Linehan, but it was also slightly hamstrung by its lead casting. Anna Maxwell Martin is a great dramatic actress, but seems to lack the lightness of touch required for comedy, so much so that at times Motherland played out almost as a drama, or a piece of reality TV, rather than a comedy.
In America, Horgan solely wrote a show about the next great stage of life, which she, like everyone else, would rather avoid, namely Divorce. Produced by HBO, it initially attracted attention for starring Sarah Jessica Parker in her first major TV role (certainly for HBO) since Sex and the City. Over time, however, it became clear that the characteristically Murphy's-dark humor of Horgan's writing was the real star of the show.
Horgan recently made her big-screen debut in the movie Game Night and that alone is a testament to her growing profile in America. Typically, however, she admitted in recent press interviews to publicise the film that while the other actors in the films were "resting" in their Winnebagos or trailers, she was feverishly writing and rewriting episodes for the second series of Motherland. It is the perfect image for Horgan, the ultimate "funny girl" who is absolutely determined to make the most of her comic talents. And with her move to Amazon, there is every chance that she will soon be making the whole internet cry with tears of joy.
---
Martin Keady is an award-winning scriptwriter whose work has been produced for film, television, stage and radio. His major credits include: The Final, a short film about the famous ending of the 1979 FA Cup Final, which was shown on Channel Four; Moon the Loon, a play about the legendary Who drummer, Keith Moon, which was premiered at The Edinburgh Festival; and a collection of love poetry, Shards, extracts from which have been broadcast on Radio Four." http://theshakespeareplays.com/
---
Photo credit: Irish Times
---
For all the latest from The Script Lab, be sure to follow us on Twitter, Facebook, and Instagram.