9/11 was the tragic, terrifying start of the 21st century. It is estimated that nearly 3,000 people were killed on the day itself and several million people have died in the "wars on terror" (there have been numerous such wars and not just one) that followed it, especially in the Middle East. Almost all of those deaths have been deeply regrettable, but there was one particular death that fans of television comedy felt was particularly painful and poignant. It was that of David Angell, the co-creator of Frasier and one of the greatest ever writers of television comedy, who died on the first plane that hit the Twin Towers, along with his wife, Lynn.
David Angell was a "baby boomer", one of the many millions of children born to the returning soldiers of World War Two. He was born in 1946 in Providence, Rhode Island, where he also attended college (at Providence College), gaining a degree in English literature that he always felt was the best possible foundation for any career in writing. Then, like many of the greatest screenwriters and TV writers who came before him (including Paddy Chayefsky), but unlike most aspiring writers of his own age, he joined the US Army. His time in the Army included a period spent working at the Pentagon, which of course was one of the other targets for the Al-Qaeda hijackers on 9/11.
Life After the Army
After leaving the Army, Angell undertook a succession of office jobs, including stints working for an engineering firm and an insurance company, but his desire to write, which had first been stimulated by his study of English at college, prompted him to start writing gags and sketches for TV comedy shows. Having received some initial encouragement from the producers and editors to whom he sent his work, he eventually decided to follow in the footsteps of so many other great writers and headed west to Los Angeles in 1977, when he was already over 30, taking with him his beloved wife, Lynn, who he had married six years earlier.
Hollywood Success and Failure
Angell loved to tell the tale of how he enjoyed instant success in Hollywood, followed by five long years of failure. In 1977, he sold his first script to the producers of the now largely forgotten Annie Flynn show, but it was to be another half a decade before he managed to sell his second script to the far more famous and infinitely more popular Archie Bunker's Place, which was a spin-off from the hugely successful All In The Family. All In The Family was itself based on the long-running British sitcom, Till Death Do Us Part, and both it and Archie Bunker's Place were centered on Archie Bunker, the archetypal grumpy old man who struggles to adapt to the changing world around him. When one considers that one of the absolutely essential elements of Frasier was the character of Martin Crane, Frasier's father, another old man who initially struggles to adapt to changing times, it is fascinating to think that Angell sought to humanize the "grumpy old man" stereotype. He succeeded triumphantly, to the extent that Martin Crane was not a stereotype at all but a living, breathing human being who could give as good as he got in his arguments with his children but who also ended up learning from them, particularly about psychology, in a way that Archie Bunker was utterly incapable of.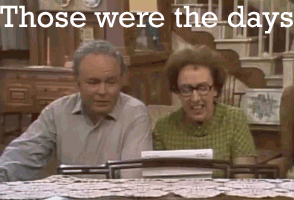 However, all that was for the future. In 1982, despite having sold a script to a hit TV show like Archie Bunker's Place, Angell was still struggling to carve out a full-time career as a television writer. That was why he leapt at the opportunity to become a member of the writing team on Cheers in 1983.
Angell was not one of the creators of Cheers, which had first aired on US television in 1982; they were James Burrows and the Charles brothers, Glen and Les. Nevertheless, having begun as a staff writer on season two, he soon established himself as one of the principal contributors to the show. Then, in 1985, he became, along with Peter Casey and David Lee, one of the show's supervising producers and writers, responsible not only for writing his own scripts but for overseeing the whole storyline of the show.
It Takes a Minute for Everyone to Learn Your Name
Frasier was so fantastic, and fantastically successful, that it can be easy to forget just how sublime its parent show, Cheers, was. Its first season in 1982 had been problematic and nearly ended in cancellation due to poor ratings, but like so many of its loser and barfly characters – notably alcoholic bar-owner Sam, waitress and aspiring playwright Diane, and regular customers Norm and Cliff – it somehow hung in there. Then, from the second season onwards, it became a huge success, not only in America (like Archie Bunker's Place) but all around the world (unlike so many US sitcoms of the 1970s and 1980s, including Archie Bunker's Place). Typically, the avuncular Angell always downplayed his own contribution to that success, but it is surely not coincidental that the show really took off, and eventually enjoyed stratospheric success, after he joined it.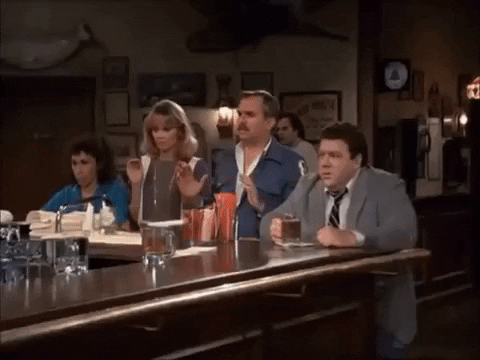 In total, Cheers would run for 11 seasons and nearly 300 episodes, in the process becoming almost a staple not only of American (and world) television but of American (and world) life. There were many reasons for its success: the superb comic performances of all the lead and supporting characters; the bar-room setting, which easily allowed for a stream of guest appearances (including by famous faces such as Dick Cavett, Kevin McHale and Emma Thompson); and even the famous theme tune, Where Everybody Knows Your Name, by Gary Portnoy, which beautifully encapsulated the "everybody's welcome" atmosphere of the show and its setting.
It Always Comes Down to the Writing
However, the single greatest factor in the success of Cheers (and subsequently of Frasier) was the writing, which was superb and set a new standard for television comedy. To give just one example, Norm's numerous responses to the regular inquiries about his well-being were a succession of memorable and quotable one and two-liners (for instance, "How's life, Norm?"/"Like I slept with its wife!"). Crucially, Cheers wasn't just funny, but was also capable of being dramatic and even immensely moving. In large part, that was because the writers and producers, with Angell foremost among them from 1985 onwards, insisted on remaining true to the show's bar-room setting. Consequently, rather than being naively (even idiotically) optimistic about life, like so many other American sitcoms, it actively embraced "the dark stuff", such as Sam's alcoholism, or the difficulties of his on/off relationship with Diane, or Cliff's utter inadequacy as both a man and a postman. This may have been one of the reasons why Cheers was such a resounding success around the world, particularly in Britain, where its grim-but-funny worldview was much more in keeping with that of classic British TV sitcoms, such as The Likely Lads or Fawlty Towers, than most other American sitcoms.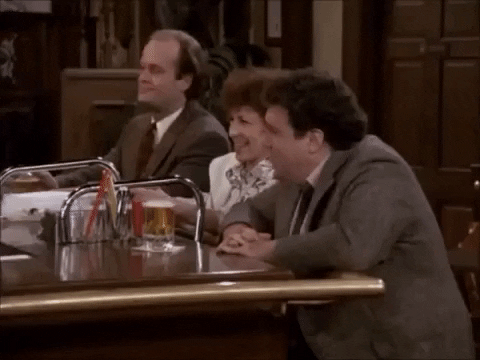 When Cheers finally ended in 1993, typically with Sam and Diane failing to live happily ever after together (Sam instead taking solace in his "one true love", the Cheers bar itself), it did so not just as one of the most successful US sitcoms ever but as one of the most successful US television programmes of any kind. The final episode was one of the most viewed programmes in American history, which is a chart dominated by Super Bowls rather than sitcoms, with the glorious exceptions of MASH and Cheers. And the show was not only an enormous commercial success but a critical triumph, winning 28 Emmy Awards and more than a hundred Emmy nominations, which remains a record. As one of the main writer-producers for all but one of the 11 years that it ran for, David Angell must be acknowledged as one of the main reasons for that success. 
Life After

Cheers
Of course, Cheers would eventually lead to Frasier, but there was another show in between that was a useful bridging point between the two. That show was Wings, a sitcom set in a fictional small airfield in Nantucket. By the usual standards of American television, it was a great success, running for a total of eight seasons between 1990 and 1997. However, in comparison with Cheers and Frasier, it was very much the runt of the Angell litter, lacking not only the compelling long-running storylines and characters of those two shows but the sheer comic verve of their writing. Nevertheless, it was absolutely instrumental in the eventual success of Frasier, because it allowed Angell, again working with Peter Casey and David Lee (they had formed Grub Street Productions in 1990, which was typically named after the 18th-century English "hacks" who had contributed to the world's first newspapers and magazines), to cut his teeth on producing a television show before producing Frasier. As the three men admitted afterward, by making all their initial mistakes on Wings, they were able to hit the ground running with Frasier, when they took one of the supporting characters in Cheers and "spun" him off to create his own show.
Frasier

 was a Masterpiece
So much has been written about Frasier that it sometimes feels impossible to add anything else of worth – but here goes. If Mozart had written a sitcom, it would have been Frasier. And the Mozartian reference is deliberate, not only because Frasier and his brother Niles are devotees of classical music but because the Mozartian combination of seriousness and joy is there in the DNA of Frasier. From the classic pilot episode, which is probably the greatest pilot episode of any sitcom ever written (the "Lupe Velez" story alone has become the stuff of legend), Frasier achieved what had been thought impossible and ended up not just matching Cheers but surpassing it. To give some idea of the scale of that achievement, it is as if one of the Beatles had ended up having a solo career that was even greater than that of their previous band, and not even Paul McCartney, arguably the greatest songwriter of the late 20th century, could achieve that.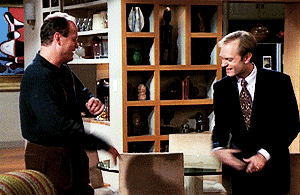 Angell's influence on Frasier was so profound that his tragic death in 2001 seemed to unsettle and imbalance the whole show. The first seven series had largely focused on the burgeoning love affair between Niles and Daphne, the beautiful but daft young British woman who Frasier hires to help look after his father. When their love was finally consummated, that inevitably robbed the show of much of its creative and dramatic tension. However, just at the point where it would have been possible to focus on Frasier himself, and his attempts to find the kind of love that Niles enjoys (which was the first time in his life that Niles had ever really bested Frasier in any field), the death of Angell and the consequent difficulties it created for the writing and production of the show seemed to throw it horribly off-kilter. That was especially true with the introduction of Daphne's hideously unfunny mother, Gertrude, as a regular character. 
As a result, seasons eight, nine and 10 of Frasier were simply not as good as the magnificent seven series that had preceded them. Indeed, at one point it appeared that Frasier might just fade away into oblivion. Then, the announcement that the series would end with season 11 seemed to galvanize everyone involved to honor Angell, the show's co-creator, and go out with the gigantic bang it deserved. It duly did so, as Frasier, having exhausted all other romantic opportunities in his home city of Seattle, reluctantly engages a professional matchmaker to help him find love, only to fall in love with her himself. Consequently, the series went out as it deserved to, on a fabulous high, even if the very last episode did recycle an earlier storyline, with the other characters thinking at one point that Frasier is dying, just as Daphne had briefly thought that Martin was dying in a Christmas special from years earlier
Like Cheers before it, Frasier was a serial award-winner, with the show and the cast winning 37 Emmy awards. Even more remarkably, it won the Emmy for Outstanding Comedy Series (the blue riband award at the Emmys) for five consecutive years. Given that this was in the 1990s, arguably the Golden Age of US sitcoms (with other major sitcoms of the time being the likes of Roseanne, Friends and Will and Grace), that accolade is even more impressive. 
An Angel from Comedy Heaven
Of course, David Angell did not live to see the end of Frasier and its ascent into comedy heaven; the joke was that he was already there waiting for them. Nevertheless, his influence on the show, as one of its co-creators and regular writer-producers, was incalculable. For all that much shorter-lived sitcoms, such as Fawlty Towers and the original British version of The Office, are hailed as "the greatest sitcoms ever", they must ultimately bow down before the combined might of Cheers–Frasier. If they are considered as one continuous show, linked by the character of Frasier, they ran for more than 20 years and nearly 600 episodes, of which at least 400 are absolutely superb. And while it is true that they were created and written by many hands, the one unifying presence in all that time is that of David Angell, who, as several of his friends put it, was "the only angel with two ls". 
---
Martin Keady is an award-winning scriptwriter whose work has been produced for film, television, stage and radio. His major credits include: The Final, a short film about the famous ending of the 1979 FA Cup Final, which was shown on Channel Four; Moon the Loon, a play about the legendary Who drummer, Keith Moon, which was premiered at The Edinburgh Festival; and a collection of love poetry, Shards, extracts from which have been broadcast on Radio Four." http://theshakespeareplays.com/
---
Photo credit: Angell Foundation
---
For all the latest from The Script Lab, be sure to follow us on Twitter, Facebook, and Instagram.