Welcome to The Script Lab's first annual list of of the top 25 emerging screenwriters of 2017! We've carefully combed the cinematic landscape in search of the best and brightest new screenwriting talent, from festivals and markets, to the latest Hollywood screenwriting competition triumphs. The writers on this list vary greatly. Some are just getting warmed up, while others already have a credit or two to their names. We can't wait to see what these writers do next.
Let's get started, shall we?

Isaac Adamson
Isaac Adamson topped the 2015 blacklist with BUBBLES, which has what has to be one of the absolute best log-lines we've ever read. Don't believe us? Check it out for yourself:
"A baby chimp is adopted by the Pop star Michael Jackson. Narrating his own story, Bubbles the Chimp details his life within The King of Pop's inner circle through the scandals that later rocked Jackson's life and eventually led to Bubbles' release."
Sign. Us. Up. Since 2015, Adamson has had a number of other projects optioned. Nothing on the silver screen just yet, but that's about to change. Just this May, Adamson's manager Lee Stobby closed a deal with Netflix to make BUBBLES a reality. Taika Waititi (THOR: RAGNAROK, WHAT WE DO IN THE SHADOWS) is set to direct.
Talk about a match made in heaven. And who knows? Maybe BUBBLES will open the floodgates for screenplays based on historical animals. LAIKA THE SOVIET SPACE DOG, anyone?
The more you know: Adamson's manager, Lee Stobby is also a long-time mentor over at ScreenCraft.
Wes Brown 
Wes Brown began his career as an attorney before unleashing his screenwriting talents on the world. His pilot script ASCENSION, set on a Louisiana sugar plantation in the days leading up to the Civil War, won the AMC One-Hour Pilot Award at the Austin Film Festival. Representation soon followed, and a few months later Brown found himself working full time on AMC's FEAR THE WALKING DEAD. From court rooms to viral zombie outbreaks. How's that for a career pivot?
The more you know: Wes ranks The New World, Malcolm X, and Fargo among his favorite movies. 
Kenlon Clark and Will Rubio
Dynamic writing duo Kenlon Clark and Will Rubio have a penchant for making audacious ideas accessible. Their latest script, FORGED, described as a science fiction thriller that follows two grieving scientists on the cusp of a morality-defying genetic breakthrough, won the WeScreenplay feature contest. No small feat, either. Not only did the screenplay beat over a thousand submissions, it also ranked ahead of an anonymous submission written by none other than Orson Scott Card. Aside from their WeScreenplay victory, Kenlon also won ScreenCraft's inaugural Bootleg Universe Competition last year. His winning short screenplay, since produced, is set for release later this summer.
The more you know: Is your writing plagued by insecurity? Will recommends looking up the Dunning-Kruger effect on Wikipedia. You can thank him later. 
Tom Dean
Tom Dean placed on the 2016 Black List with his screenplay, THE TIME TRAVELLER'S LA RONDE. The script, which is described as "an exploration of relationships as a man witnesses different types of love across the age" was written partially as a reaction against the common logic that specs must be written according to the latest Hollywood trends. Clearly he's on to something since LA RONDE was optioned shortly after. He's since had other screenplays optioned as well, meaning it's only a matter of time before his work hits a theater near you. 
The more you know: The first film to leave a profound mark on Tom was DEATH TO SMOOCHY.
The Duffer Brothers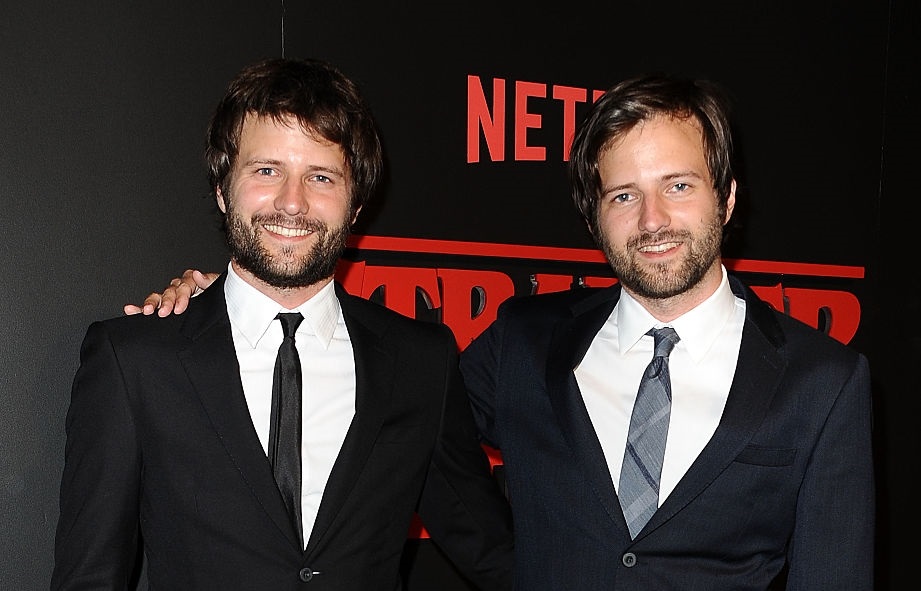 Hot on the heels of the massively successful STRANGER THINGS, it's hard to believe that only a year ago the Duffer Brothers were relatively unknown filmmakers with just a single feature to their name. That film was HIDDEN, by the way — a horror thriller set in a bomb shelter following a deadly viral outbreak. The brothers sold the spec shortly after graduating from Chapman University, prompting a bidding war that ended with a distribution deal with Warner Bros. Though the eventual film was sadly limited to a home video release, the script caught the attention of M. Night Shyamalan who hired the Brothers to work on his TV show, WAYWARD PINES. The duo sold their STRANGER THINGS pitch to Netflix soon after, and the rest is history.
The more you know: The Duffer Brothers first short film was based on the card game Magic: The Gathering. We'd have guessed Dungeons and Dragons. 
Lindsay Golder
Lindsay Golder emerged victorious from the 2015 ScreenCraft Pilot Launch Contest for her web series screenplay entitled CELEBRATION. The series tells the story of acerbic Minnesotans Arden and Tippy, best friends whose chaotic personal lives begin to bleed into their party planning business. Since then, she's ascended to screenwriting success as a writer on the TV adaptation of Richard Linklater's SCHOOL OF ROCK, along with Fox's THE MICK. She enjoyed sole credit on THE MICK'S (hilarious) ninth episode, which aired on television last February. 
The more you know: Lindsay recently ranked as a finalist in Orb Media Group's China-Hollywood Screenwriting Fellowship for LEFTOVER GUYS.
Alex Greenfield and Ben Powell
Writing duo Alex Greenfield and Ben Powell won ScreenCraft's 2015 Horror Screenplay Contest for PLAGUE SHIP, which revolves around a honeymoon gone wrong after a deadly disease breaks out on a luxury cruise ship (note to Hollywood: make this movie). Around that time, they also wrote THE SAND, a horror sci-fi romp with serious cult-classic potential. Currently, Greenfield & Powell's original supernatural thriller, THE VESSEL is in development at Broad Green Pictures (THE INFILTRATOR) with Richard Saperstein's (SE7EN, THE MIST) Storyscape Entertainment producing. Production is slated for October 2017. The writers are also working on LULLABY, a horror assignment for Heroes and Villains Entertainment (MISS PEREGRINE'S HOME FOR PECULIAR CHILDREN).
The more you know: Outside of his film work, Alex Greenfield has worked as a writer for the WWE, which doesn't exactly bode well for the "wrestling is real" crowd.
Dominique Holmes
Dominique's TV pilot spec BOG WALK has made quite the splash on the festival circuit, starting with The Austin Film Festival, where it was selected as a top finalist in the AMC One-Hour Pilot category. Since then, BOG WALK has been recognized in ScreenCraft's Pilot Launch competition, the Nashville Film Festival Screenwriters Competition, as well as WeScreenplay's Diverse Voices contest where it won the Best TV Drama prize. The script focuses on Jamaica's tumultuous Bog Walk neighborhood, which is particularly fitting given Dominque's own Jamaican heritage. 
The more you know: On her inspirations, Dominique had this to say, "I love to read. I love to paint. I love to travel. I love to go to museums. All of these things inform my perspective and sense of story. I'm currently reading Tove Jansson, Willa Cather and 18th century erotica. Also, Simon's Cat on YouTube. Genius."
Barry Jenkins 
Yeah, we hear you. "Emerging? Didn't MOONLIGHT win best picture?"  Yes, it did. Deservedly so, we'd say. Which is why we're bumping this list from 25 to 26. Still, aside from MOONLIGHT and his earlier, lesser-known debut, MEDICINE FOR MELANCHOLY, Barry Jenkins remains a relatively fresh face in the Hollywood scene. Talk about setting the bar high.
What has us most excited about Jenkins is the sheer potential he represents. One doesn't simply burst onto the scene with a film like MOONLIGHT, which has us drooling at the mouth for whatever he decides to do next.
The more you know: Jewelr Ross (Jenkins' manager) was a judge in one of ScreenCraft's recent screenwriting competitions.
Henry Jones 
Lauded as one of Austin Film Festival's 25 Screenwriters to Watch, Henry Jones got his start in the video game industry writing dense, lore-heavy MMORPGs for Acclaim. Since then, he's worked on screenplays for Universal, Bad Robot, and Paramount, as well as won the Enderby Entertainment Award for his spec script STATIC. He's presently writing a new feature with writing partner Matthew Dixon set inside a nuclear missile launch control center at the end of World War II. 
The more you know: When asked to describe the hardest thing he's ever written, Jones answered, "whatever I'm currently writing".
We know the feeling. 
Lena Khan
After graduating from UCLA's film school filmmaker Lena Khan began working at Participant Media. Shortly thereafter, she set out to direct a feature film based off a comedy script she wrote about a young Indian immigrant who arrives in America in the 1970s. Fast-forward to now, and that film is THE TIGER HUNTER, which swept festivals last year before netting Khan representation at CAA. The film stars Danny Pudi and John Heder and is slated for theatrical release courtesy of a distribution deal with the Shout!Factory. 
The more you know: Both as a female director and as a Muslim, Khan's hope is that the relatability of THE TIGER HUNTER will do its part to erase harmful stereotypes in Hollywood. 
Damir Konjicija and Dario Konjicija 
After escaping war-torn Bosnia as children, Damir and Dario Konjicija have gone on to establish themselves as major new voices in Hollywood's inner circle. How's that for an upwards trajectory? Currently in the writer's room for the CBS sitcom THE GREAT INDOORS, the duo recently took home the Humanitas New Voices Prize, as well as the Sitcom Teleplay Award at the Austin Film Festival. 
The more you know: They're not twins (could've fooled us), but that hasn't stopped the writing duo/brothers/roommates from embarking on a mission to discover how many titles two people can share before they kill each other. Stay safe, guys!
Louisiana Kreutz 
Before striking it out on her own, indie filmmaker Louisiana Kreutz cut her teeth in the editing room on documentaries like HBO's SWEETHEARTS OF THE PRISON RODEO. She's gone on to direct two documentaries of her own, including JUNGLE FISH, which won the Sundance Institute's Sustainability Award in 2013. More recently, she's been making narrative in-roads with her (fiction) debut QUAKER OATHS, which premiered at last year's Austin Film Festival.
The more you know: Like so many of the films on this list, QUAKER OATHS comes complete with an incredible logline. "To make their divorce final, a Quaker couple must follow tradition by seeking out everyone who came to their wedding and asking them to cross their names off the marriage certificate."
Just tell us where to send our money. 
Geeta Malik 
After graduating with an MFA in film production from UCLA, Geeta Malik won a College Television Award from the Academy of Television Arts and Sciences for her short film, AUNTY Gs. Since then, she's gone on to direct the feature film TROUBLEMAKER, which made her a finalist in the ABC/Disney Directing Fellowship. Her latest screenplay, DINNER WITH FRIENDS, netted Malik the 2016 Academy Nicholl Fellowship along with the grand prize in the 2016 Austin Film Festival Feature Comedy Screenplay Award.
The more you know: Aside from a desire to entertain while deconstructing stereotypes, DINNER WITH FRIENDS also arose from Malik's own experiences as an Indian-American growing up in Colorado. 
Justin Lader and Charlie McDowell
Together with writing partner Justin Lader, director Charlie McDowell is no stranger to the indie film community. The pair burst onto the scene in 2014 with THE ONE I LOVE, starring Elisabeth Moss and Mark Duplass. The film earned strong reviews and made back more than ten times its budget through ticket sales and V.O.D. It also paved the way for the duo's next feature, Netflix's THE DISCOVERY, starring Robert Redford, Rooney Mara, and Jason Segel. What's next? A limited series now in development (prospective buyers, take note). 
The more you know: THE DISCOVERY was partially inspired by Chris Nolan's ability to tackle big ideas in a realistic, accessible way. INDIE-CEPTION, anyone?

Jimmy Mosqueda 
Jimmy made his mark back in 25 when his pilot VALEDICTORIAN placed in the Top 75 in Tracking Board's annual Launch Pad Pilots Competition. The absurdist dark comedy, which Tracking Board describes as Election meets Pretty Little Liars, follows a high school senior who plots to become valedictorian after the mysterious death of her boyfriend. Since, then Mosqueda has signed with Energy Entertainment, participated in the Sundance Institute's Screenwriters Intensive, and ranked as a semi-finalist in the industry-lauded Nicholl Fellowship.
The more you know: Born to Mexican migrant workers, it wasn't until his time at Stanford that Mosqueda came to realize the complex interplay between social class, education, and race. It's a thematic connection that features heavily in his own work as a result. 
Jono Matt and Glenn Powell
SCREAM QUEENS star Glen Powell and his writing partner Jono Matt are at the center of one the most eye-catching deals to come out of Hollywood in some time. Pairing with Paramount Pictures and Leonardo DiCaprio's Appian Way Productions. How did a pair of relatively fresh-faced screenwriters land such an illustrious first gig? According to The Hollywood Reporter, studio heads were impressed with the duos take on the material, which rumor has it features a washed up Captain in dire need of a comeback. 
The more you know: For Powell and Matt, life begins and ends with Richard Linklater. And not just because Powell starred in the legendary director's most recent film, EVERYBODY WANTS SOME. 
Juanjo Moscardó Rius 
Spanish-born filmmaker Juanjo Moscardó got his start as a script editor for a number of television shows at a broadcast company in Spain before making the leap to the silver screen in 2016 with his debut feature FAMILY GAMES. His screenplay THE ROAD OF LIFE was selected as a finalist in the 2016 Austin Film Festival Screenplay Competition. He's currently in post-production on his second feature PAELLA TODAY, which is slated for release later this year. 
The more you know: After seeing Nancy Meyers speak at the Austin Film Festival, Moscardó admitted to MovieMaker magazine that he came close to pitching her the director's job for the hypothetical American remake of FAMILY GAMES. Unfortunately, he's a bit shy, but he'd like her to know anyway. Did you get that, Ms. Meyers?
Kate Nowlin 
If Kate Nowlin looks familiar, that's probably because you've seen her before in movies like THE ADJUSTMENT BUREAU and YOUNG ADULT. Or maybe you're familiar with BLOOD STRIPE, an independent drama featuring Nowlin as a Marine sergeant stricken by PTSD. The film, which Nowlin also wrote, won the U.S. Fiction Award at the LA Film Festival along with the Audience Award in Austin. 
The more you know: Following a violent assault in which she herself was the victim, Nowlin wrote the as-of-yet unproduced script for THE BOOGIE DOWN in an effort to "understand the other side – the side of the perpetrator".
Tracy Oliver
USC alum Tracy Oliver is the mastermind behind THE MISADVENTURES OF AWKWARD BLACK GIRL, the popular web-series she created alongside fellow screenwriter Issa Rae. Since then, Tracy's worked on a number of shows including THE NEIGHBOURS and SURVIVOR'S REMORSE. She also wrote BARBERSHOP: THE NEXT CUT, which opened last year to strong reviews before taking in $55 million dollars at the box office. 
The more you know: Tracy has several projects in development, including two movies with Universal, and a Misty Copeland series with fox. 

Dante Russo
Dante Russo's been busy. His name's been popping in and out of the trades for a couple of years now, always in association with one prestigious contest or another. Last year, he was chosen as one of the winners in ScreenCraft's prestigious annual Fellowship for his half-hour pilot HATERS, which led to his current gig on the CBS show THE ODD COUPLE. He also partook in the 2017 Stowe Story Lab, and recently wrapped production on his winning entrant in the inaugural ScreenCraft Short Screenplay contest.
The more you know: Currently, Dante's the only writer to win two of ScreenCraft's competitions. No easy feat, given that the number of entrants routinely number in the thousands. 
Trey Selman
Trey Selman burst on the scene with THE FRUITCAKE, which landed him a spot on the 2016 edition of The Black List. The script tells "the remarkable true story of an unremarkable church-going accountant who stole $17 million in the biggest fruitcake heist of all time." Think HELL OR HIGH WATER by way of FARGO or RAISING ARIZONA. If that doesn't sell you, nothing will.
The more you know: Is a firm believer in slow-smoked brisket, Davy Crockett and Bigfoot.

Ben Snyder and Ari Issler 
Ben Snyder and Ari Issler are a triple threat, with multiple writing, directing and producing credits to their name. Their latest collaborative effort is 11:55, an indie feature about a US Marine who returns to his hometown only to find himself trapped by the violent past he had tried to escape. Following its premier at the Los Angeles Film Festival, 11:55 went on to in the Audience Favorite Feature award at Aspen. It was recently acquired by Gravitas Ventures, which has plans to distribute the film next month in theaters and on demand.
The more you know: Snyder and Issler are currently on the Austin Film Festival's list of the 25 Screenwriters to Watch. 
Megan Park 
Hailing from Ontario, Canada, Megan Park is perhaps better known for her acting roles, including THE SECRET LIFE OF THE AMERICAN TEENAGER, ROOM, and WHAT IF (originally called the THE F WORD), which also starred Daniel Radcliffe. After being encouraged to pursue writing by friend and colleague Zoe Kazan, Park wrote a TV pilot that brought her some attention in the spec marketplace. She made her directorial debut this year with LUCY IN MY EYES (which she also wrote), which took home the Grand Jury Prize at the Austin Film Festival.
The more you know: Park cites Sofia Coppola as the main inspiration for her work. 
Ryan Piers Williams
Texas-born Ryan Piers Williams has emerged as one of the indie communities most promising new talents ever since his debut feature, THE DRY LAND, premiered at Sundance in 2010. Since then, he's completed a second feature called X/Y and is currently in the process of developing a third. His current project was recently awarded the San Francisco Film Society/ KRF Filmmaking grant for screenwriting. 
The more you know: Williams is married to UGLY BETTY star America Ferrera, who also acted in the director's sophomore film. 
Nicholas Verso 
Nicolas Verso's first feature BOYS IN THE TREES made its debut at the 2016 Venice film festival as well as the Toronto International Film Festival. The film is ostensibly a coming-of-age film set during Halloween and steeped in skater culture as well as the supernatural. How's that for an elevator pitch? Nicolas, who grew up in Australia counts Neil Gaiman and Ray Bradbury as chief inspirations, which perhaps explains his own affinity for strange fiction. Together with his short film and television credits, Nicolas has already seen his fair share of accolades and grand prizes, including an Emmy for his work on NOWHERE BOYS. 
The more you know: While BOYS IN THE TREES is rich with details plucked from Verso's youth, its period setting serves a more practical purpose. "When I started writing the film, it was set in the modern day, but all the modern technology kept getting in the way… I just found them very undramatic."
_______________________________
And there you have it. Our top picks for the 30 most promising new screenwriting talents in the industry today. If there's a takeaway from our research, it's that writers write, and there's no such thing as an overnight success. Most of the emerging screenwriters on our list toiled away for years before ever seeing even the slightest hint of recognition. It's proof that success in this industry isn't impossible. It just takes time, effort, and perhaps the slightest bit of luck. 
So, what do you think? Are we missing anyone? Let us know on Twitter or Facebook.